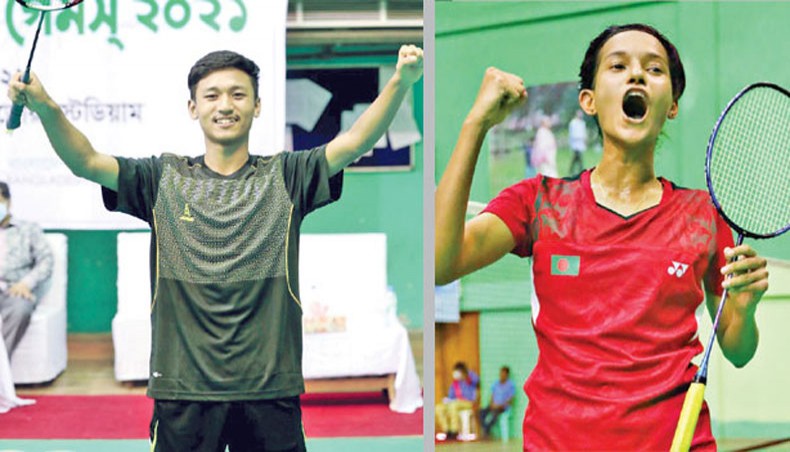 Sylhet District Sports Association's shuttler Gourab Singha and Ansar's Urmi Akter won gold in their respective singles' event in badminton at the 9th Bangabandhu Bangladesh Games at the Shaheed Tajuddin Ahmed Indoor Stadium in Paltan on Thursday.    
Gourab beat Army's Al Amin Jumar by 2-0 sets in the final while Urmi defeated Army's Brishti Khatun by 2-1 sets to win the top prize.
After winning the national event, Gourab is now eyeing gold in the South Asian Games.
'If I get long term training, I could win gold in the South Asian Games,' said Gourab, who lost in the quarter-final stage of the last SA Games in 2019.
Urmi, on the other hand, was overwhelmed after winning her first gold medal at the national level.
'This is my biggest achievement since I began my senior career in 2016. Before this, I was eliminated from the quarterfinal stage in the last national championship.'   
In cricket, Jahangirabad Central Zone advanced to the men's event's final after a 40-run win over Chandradip South Zone in their last league match at the Shaheed Abdur Rab Serniabat Stadium in Barishal on Thursday.
Jahangirabad will face Varendra North Zone in the final at the same venue on April 10.
In the day's match, Jahangirabad opted to bat first and were bundled out for 221 in 49.3 overs.
Ariful Islam top-scored for them, scoring 75 off 94 balls and Shahriar Alam made a crucial 44 off 47 balls.
In reply, Chandradip skipper Habibur Rahman scored 52 off 70 balls but did not get any support from the rest of the batters and in the end his team got bowled out for 171 in 45.2 overs.
On Wednesday, Varendra confirmed their berth in the final after beating Chattola East Zone by 36 runs.
Ansar bagged gold in the women's handball tournament after a win by 42-20 goals against Police in the final at the Captain M Mansur Ali Handball Stadium in Paltan.
Navy clinched the gold medal in the men's basketball, beating  Army by 57-52 points in the final.
In taekwondo, Ansar's Salma Khatun and Army's Sraboni Biswas bagged gold medals in the senior women's under-62kg and under-67kg weight categories events respectively.
Meanwhile, Ansar's Shahanara Khatun bagged gold in the women's senior under-73kg weight category, beating Army's Shamoli Khatun by 13-05 points in the final.
Ansar dominated with most medals in the boxing discipline, which concluded at the Mohammad Ali Boxing Stadium on Thursday.
Ansar team boxers bagged a total of nine medals – five gold, two silver and two bronze – followed by Army, who won three gold, three silver and two bronze.